Days of Lot — Confusion of Faces
"O Lord, righteousness belongeth unto thee, but unto us

confusion

Strongs 1322: bosheth, bo´-sheth; from 954; shame (the feeling and the condition, as well as its cause); by implication (specifically) an idol:—ashamed, confusion, + greatly, (put to) shame(-ful thing).

of faces, as at this day; to the men of Judah, and to the inhabitants of Jerusalem, and unto all Israel, that are near, and that are far off, through all the countries whither thou hast driven them, because of their trespass that they have trespassed against thee.

— Daniel 9:7
South Dakota Gov. Kristi Noem announced on June 2 that, to protect fairness in women's sports, she intends to sue the Biden administration over an overhaul of the federal school lunch program to be more in line with Title IX.
The Department of Agriculture (USDA) under the Biden administration announced on May 5 that all state and local agencies that receive federal funding for meals, more specifically including schools, must not discriminate based on sexual orientation and gender identity.
In other words, schools that receive funding through the federal school lunch program could lose the funding if they discriminate against those identifying as a different gender or sexual orientation, such as not allowing biological males who identify as females to use women's restrooms. The basis of the changes in the federal school lunch program originated from President Biden's Executive Order combating discrimination of sexual orientation and gender identity.
Noem blasted the Biden administration's threat of withholding funding from vulnerable student populations in a press release on June 2:
"President Biden is holding lunch money for poor Americans hostage in pursuit of his radical agenda. He is insisting that we allow biological males to compete in girls' sports or else lose funding for SNAP and school lunch programs," Noem said. "South Dakota will continue to defend basic fairness so that our girls can compete and achieve. I would remind President Biden that we have defeated him in litigation before and are ready to do so again. Mr. President, we'll see you in court."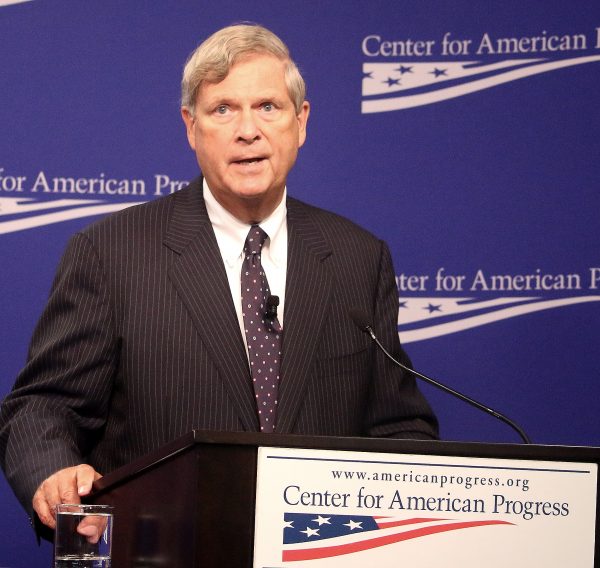 Secretary of Agriculture Tom Vilsack defended the Biden administration's position on gender identity, sexual orientation, and fairness in a written statement:
"USDA is committed to administering all its programs with equity and fairness and serving those in need with the highest dignity. A key step in advancing these principles is rooting out discrimination in any form–including discrimination based on sexual orientation and gender identity.
"At the same time, we must recognize the vulnerability of the LGBTQI+ communities and provide them with an avenue to grieve any discrimination they face. We hope that by standing firm against these inequities we will help bring about much-needed change."
In addition to the USDA's interpretation of sex discrimination, the agency says "state and local agencies, program operators and sponsors that receive funds from FNS must investigate allegations of discrimination based on gender identity or sexual orientation."
"Those organizations must also update their non-discrimination policies and signage to include prohibitions against discrimination based on gender identity and sexual orientation," Vilsack's statement said.
Earlier this year, Noem vetoed the state legislature's version of a bill that would not allow biological males compete in women's sports.
The initial transgender bill that was passed by the state legislature was vetoed by Gov. Kristi Noem, using a "style-and-form" veto, that kicked the legislation back to the statehouse demanding changes.
The legislation would have prohibited transgender women and girls from participating in girls and college sports in South Dakota. Initially, Noem indicated via Twitter that she was "excited" to sign.
In her Jan. 11 State of the State address, Noem said, "Common sense tells us why. Boys' and girls' bodies are biologically different. In South Dakota, only girls can play girls' sports according to the executive orders I signed almost a year ago. But I am introducing—and hope you will support—a bill that will be the strongest law in the nation. Congress passed Title IX years ago to guarantee that girls have a level playing field on which they can succeed—to ensure their liberty to achieve. … We need to protect the freedom of our young girls to go out there and do it."
In February, Noem signed another version of the transgender bill, Senate Bill 46, which codified a debate about what she called "fairness in sports" and transgender participation.
"This bill has been an important priority," she said at a press conference moments before signing the bill. "I appreciate all of their (legislators) hard work in making sure that girls will always have the opportunity to play in girls' sports in South Dakota, and have an opportunity for a level playing field, for fairness, that gives them the chance to experience success (and) go on to potentially play at a higher level, earn scholarships, perhaps play professionally, and have a career."
"The Biden U.S. Department of Agriculture (USDA) is threatening funding for the federal school lunch program and other Supplemental Nutrition Assistance Program (SNAP) dollars if schools and other entities do not adopt a false interpretation of Title IX." Ian Fury, Communications Director for the governor said in a written statement.